Launching Accessible Game-Based Learning Initiatives
Humans have a limited concentration capacity, especially when it comes to training activities. For this reason, it is best to count on innovative and participatory learning experiences that engage the attention of the student and encourage their learning.
Currently, many organizations are turning to methodologies such as game-based learning or GBL. This strategy focuses on the use of games specifically designed to motivate and facilitate the retention of knowledge, and guarantee its application to everyday situations and tasks.
This methodology is equally effective when it comes to accessible eLearning courses. However, when including games in this type of content, we must take into account a series of considerations and specific guidelines. Read on to discover the benefits of game-based learning for all your employees, and learn about the different types of accessible games you can make use of.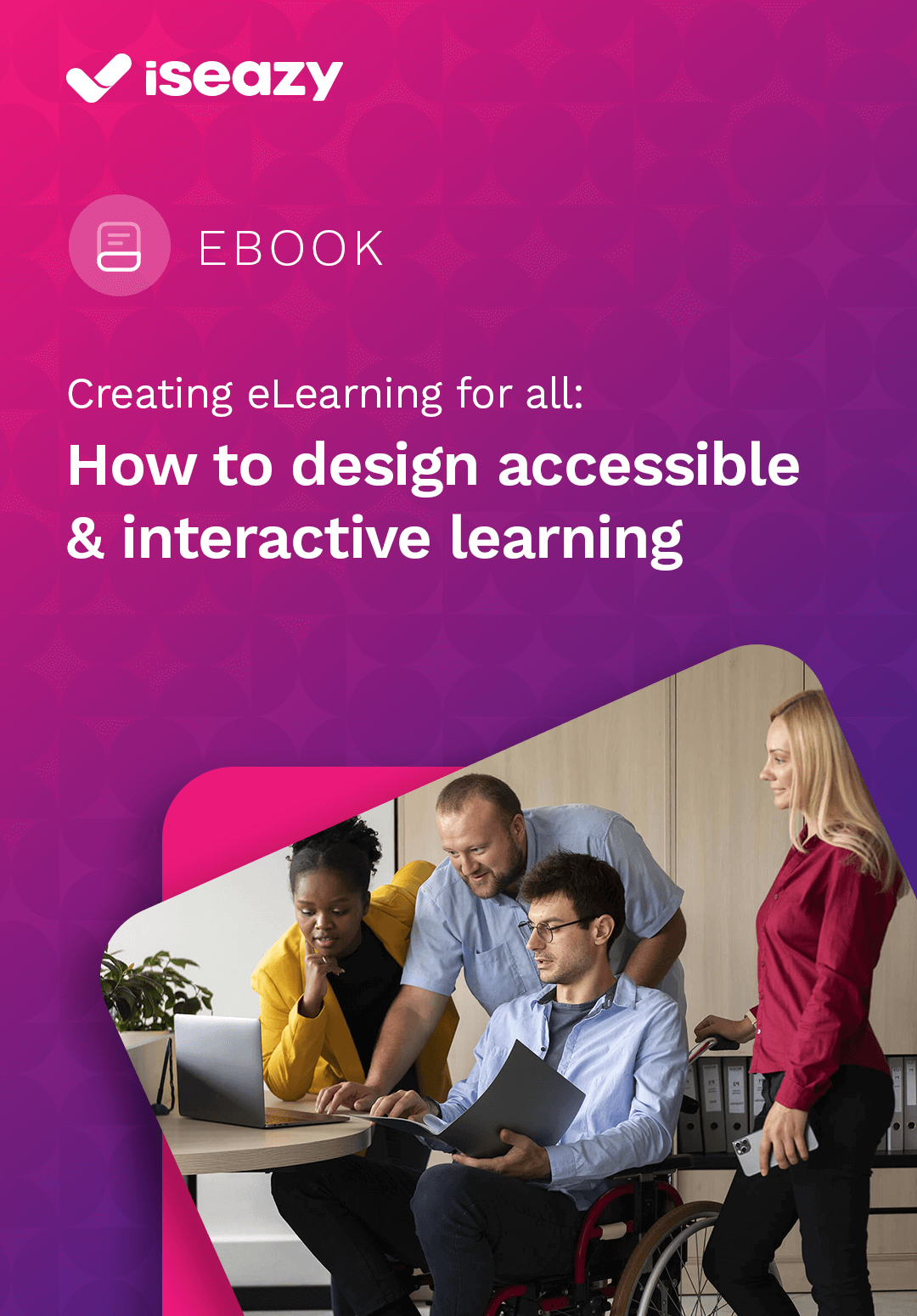 eBook Release
Creating eLearning For All: How To Design Accessible And Interactive Learning
Uncover the knowledge and tools you need to face the challenges of accessible learning.
The Benefits Of Game-Based Learning
Game-based learning has become one of the most widely used methodologies for corporate training in the last decade, above all, because it allows employees to acquire knowledge in a practical and effective way. But this is only one of its many benefits. Below, you can find many more:
Promotes commitment and motivation: Features such as point scoring, completing an activity in the shortest possible time, or improving on a high score encourage students to perceive the training as a much more entertaining task.
Increases knowledge retention: Using multimedia elements such as images and videos has been shown to greatly improve knowledge retention. But if we add to this through games and interactive exercises, we can improve retention even further by up to 70% - according to Cody Blair's learning pyramid.
Empowers self-development: Unlike other methodologies, accessible game-based learning allows students to be in control of their own learning. Thanks to games, students receive immediate and personalized feedback on their level of knowledge, gaining awareness of what they have learned successfully or what they need to reinforce.
Promotes the development of soft skills: GBL helps students acquire knowledge and assimilate concepts whilst developing other skills such as critical thinking or conflict resolution. This is because the games force them to analyze a situation before making their next move and think about the consequences of each decision.
Helps students to establish training objectives... and achieve them: One of the greatest benefits of this methodology is that it sets clear and specific goals, which helps students focus on the skills and knowledge they need to develop in order to be successful – both in the game and in their daily work.
Builds an emotional connection with the student and offers other psychological benefits: Game-based learning allows students to overcome difficulties, gain knowledge and have fun throughout the learning process. All of this has a positive impact, helping them to perceive the training as a beneficial process and develop an emotional connection with the company.
In addition, the use of games in training helps reduce stress by providing a more relaxed and less intimidating environment for learning. It also helps improve the self-esteem of employees by giving them a sense of accomplishment or success in achieving desired results.
How To Include Game-Based Learning In Your Accessible eLearning Courses
As with any other interactive elements, you must take into account the Web Content Accessibility Guidelines (WCAG) when including games in your accessible eLearning courses.
At a general level, let's remember that, according to these guidelines, the content must be: perceivable, so we must include alternative text in the images, and operable, which means we must allow keyboard navigation, limit the use of animations, provide additional input methods for the keyboard, as well as provide enough time for students to read and use the content. In addition, the operation and navigation of the game must be predictable, and we must ensure that the student can understand the mechanics of each game by providing clear instructions on how it works.
These guidelines also affect the use of color since we cannot only rely on the use of red and green to signify right or wrong outcomes.
Types Of Accessible Games
Although following these guidelines can be a complex task, authoring tools offer preconfigured accessible games and tips so that the course creator can focus exclusively on the educational content. Do you want to know what types of accessible games you can include in your eLearning courses? Here is a list of some of the most engaging and effective ones:
1. Words Game (Wordle)
This game, created by Josh Wardle, has become hugely popular over the last few years. Its use has even spread to online training, and some authoring tools have included it in their list of available interactive resources.
The dynamic is simple – guess a word in 6 attempts, following the clues given after each one. Every time the student makes a guess, the box for each matching letter will change color to provide clues to help them work out the whole word.
When using this game in accessible eLearning courses, it is necessary to mark each letter with some other element besides only color and include clear instructions and messages that allow players to continue with the features of the game. This can be quite a complex task in itself. To provide the appropriate user experience for this type of game, it is best to look for an authoring tool that automatically implements accessibility.
2. Alphabet Game
This game consists of guessing words that begin with each sequential letter of the alphabet, from A to B, with the only clue in each case being a single letter and a brief description or image. At the start of the game, the letters will form a circle of letters in alphabetical order. When the clock starts ticking, the user will have to guess each one of the words in order. The idea is to guess as many words in the shortest possible time until the circle is complete.
In addition to the steps described above, for the accessible version of this game we must consider the possibility that a student cannot see their progress through the circle because they have a visual impairment. Another challenge is to ensure that the whole game can be controlled through the keyboard. It is also important to remember that in accessible content, the student must be able to increase the size of the text without disturbing the layout of the game.
3. Memory Game
A version of the traditional game in which the player needs to turn over cards and remember their positions in order to match them. In eLearning, it is used to relate concepts, for example, countries and capitals, years and events, quotations and authors, or brands and logos. In this way, it allows you to exercise your attention span, visual memory, and processing agility.
In its accessible version, the game must put aside solely visual memory to focus on matching concepts and facilitating interaction for all users, regardless of whether or not they have some type of disability.
4. Trivia Game
An adaptation of one of the most popular and educational games on the market. To complete it, students must answer questions and provide one correct answer from each category.
As in the games described above, it is essential that, in its accessible version, trivia includes clear instructions and messages that allow the functionalities of the game to be followed. For this reason, feedback given to the player should not only use color to signify right and wrong but also other elements. Additionally, it is necessary to ensure that students using a screen reader can perceive the progress of the game through updates to the status of each category.
5. Swipe Game
This game consists of classifying a series of cards into two categories. To do this, the player must drag each card to its corresponding category. Each time they make an attempt, the game will offer feedback that indicates whether the attempt was right or wrong.
If this type of game is used in an accessible course, the inclusion of drag & drop style interactions must be avoided. The alternative could be to click on the selected option.
Conclusion
As you can see, thanks to accessible game-based learning, you can make the whole training process more fluid and relaxed. Choose the type of game that best suits the objective of your training and the needs of your audience, and select an agile and intuitive authoring tool that allows you to simplify tasks through a variety of preconfigured accessible games.
Download the eBook Creating eLearning For All: How To Design Accessible And Interactive Learning today to discover how to design accessible learning experiences that are engaging, personalized, and memorable for every member of your team.